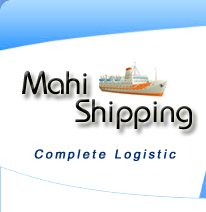 Reach Us

Our Motto - Customer Satisfaction...
Our Services
Transportation

Custom Clearance

We provide transportation within India through our own transportation department. Domestic transportation includes movement by road, rail and even barges or a combination of any of these to meet our customer's delivery commitments.We regularly move commodities such as cement, steel, heavy machinery, chemicals, consumer durables and consumables, safely and with a time bound delivery schedule.

Mahi Shipping offers customs clearance services both for imports, as well as exports at all major international ports, airports and ICDs. Clearance services on offer are progressively on electronic data interchange including receipt of soft copy shipping documents and their transference of bills of entry and shipping bill. Further processing in the customs house, cargo complex is also on customs EDI.

Shipping & Forwarding

Logistic Solutions

Mahi Shipping has very large warehousing space in key locations across the country. Reliable data-collection and reporting systems assures accurate information and visibility on inventories and order processing using state of the art Warehouse Management Systems (WMS) that can be interfaced with that of the customer. We offer a wide range of Ocean Freight Services including Ocean Freight Forwarding, NVOCC consolidation and total freight management.

Mahi Shipping, One of India's leading agencies engaged in the business of International Freight Forwarding by Air and Sea, to and from India. The Company offers its clients complete logistic solutions and tailormade packages with special focus on services. Mahi Shipping prides itself on its exceptional service, ability to meet tight time constraints, deadlines and service to a multitude of industries and is IATA approved."